High School Summer Camp in the Cayman Islands
Sizzle in summer sunshine in the Caribbeans!
Embark on a memorable journey where high school students (aged 13-17) are invited to immerse themselves in a week-long Caribbean Marine Ecology Camps. Based in the enchanting Little Cayman's pristine shores, this transformative program presents the wealth of tropical marine ecology, biology, and conservation in one of the most breathtaking coral reefs in the world. Marine Impact partnered with Central Caribbean Marine Institute (CCMI) and seeks to excite a profound shift in students' perspectives and behaviors towards the ocean, while blending education and enjoyment seamlessly. As participants explore into the wonders of Little Cayman, they will reside within a vibrant research station, mentored and guided by an expert team of marine educators and biologists. Students will gain practical and invaluable knowledge in marine science, while embracing the spirit of summer camps. During the summer program, participants will find themselves engaged in a whirlwind of beach games, bike rides, beach bonfires, kayaking, and expeditions through the captivating beauty of Little Cayman's diverse environment.
Daily activities include students venturing into the bright blue waters and  sandy shores, integrating classroom knowledge with real-world challenges. As they explore the ocean's depths and engage in hands-on activities, they also create meaningful connections by forging lifelong friendships, unforgettable memories, and the passion for the marine world. This Caribbean Marine Ecology Camp is an experience of a life time for high school students, as it merges knowledge and passion with the ocean's charm, while encouraging personal growth and lifelong impact.
ORGANIZATION
Central Caribbean Marine Institute (CCMI) has a bold vision for a world brimming with thriving oceans and thriving coral reefs. Since it was established in 1998, CCMI has relentlessly pursued this vision through groundbreaking research that drives tangible action. By translating cutting-edge findings into impactful conservation and education initiatives, CCMI bridges the gap between knowledge and real-world change. As a non-profit organization, its mission to sustain marine biodiversity is made possible through research grants, donations, corporate sponsors, and educational programs.
Each year, CCMI proudly welcomes over 25 education groups from around the globe, including primary schools, high schools, citizen scientists, and university groups. Experienced staff, well-versed in teaching students of all ages, deliver immersive learning experiences both within the classroom and out in the field.  A specially developed curriculum sparks curiosity and nurtures a deep understanding of marine science. Nestled within a fully operational research station, CCMI offers comfortable dormitories that can accommodate up to 24 students. The classroom, with breathtaking views of the Caribbean Sea, provides a conducive learning environment for up to 25 individuals. Equipped with an extensive marine library, computers, and a projector screen, it serves as a hub for knowledge exchange and discovery.
WHERE YOU'LL STAY
Found in the rich Caribbean waters, Little Cayman stands as the smallest and most intimate of the renowned Cayman Islands trio. Stretching just 10 miles in length and just 1 mile in width, this tranquil paradise is home to a close-knit community of less than 200 permanent residents. While Little Cayman boasts minimal human development, its proximity to Grand Cayman is only a 30 minutes plane ride away, making it easily accessible for those seeking an idyllic escape.
Diving enthusiasts and nature lovers are drawn to Little Cayman for a truly awe-inspiring experience. Considered a crown jewel of the Caribbean, the coral reefs that grace the island's shores are unparalleled in their beauty and diversity. Delighting in vibrant hues, these coral formations play host to an astonishing array of marine life. Majestic megafauna, including elegant spotted eagle rays, vibrant nassau grouper, graceful sea turtles, and awe-inspiring sharks, populate the pristine waters. Little Cayman's thriving underwater ecosystem has earned it a well-deserved reputation as one of the Caribbean's premier diving destinations. Embark on a journey to Little Cayman, where the splendor of nature reigns supreme. Immerse yourself in the captivating embrace of vibrant coral reefs, swim alongside fascinating marine creatures, and discover a true tropical sanctuary like no other.
FOOD
We understand the importance of nourishing both body and mind during our action-packed days. That's why we provide three delicious meals a day, accompanied by fresh fruit for snacks. However, since our program is filled with exciting adventures and extended hours, we recommend packing additional snacks to keep you energized.
We strive to cater to the dietary needs of all our students, although it's crucial to consider the limitations of provisioning in remote areas and cooking for a large group. Our supplies are transported via barge, and their delivery timing is weather-dependent. To ensure we accommodate any special dietary requirements, please inform us well in advance. In your registration packet, you'll find space to note any allergies or specific dietary needs. Mealtimes are much more than simply fueling up; they are a cherished highlight of each day. As students enter the ocean-view dining area, they engage in lively discussions by answering thought-provoking questions. To promote an immersive experience and foster connections, we have a no-phone policy during meals. This creates the perfect atmosphere for bonding, where students and CCMI staff come together for communal lunches. It's an invaluable opportunity for students to interact with our expert researchers and ask questions, enriching their understanding of marine science and conservation.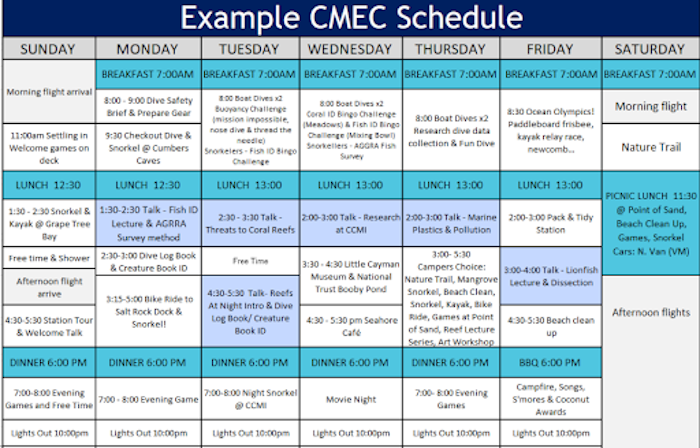 RATES
     Camp Cost: $2645 USD (all flights and DAN insurance for scuba divers separate)
PROGRAMME FEE INCLUSIONS:
All room and board (3 meals/day)

Instructor fees

All classroom and field equipment

Scuba diving (if certified)
PROGRAMME FEE EXCLUSIONS:
Flights to and from Little Cayman

DAN insurance for Scuba Divers
PACKING LIST
Please keep in mind that Little Cayman is remote, with only one small grocery store, and while basics are available there, they are often very expensive. Don't forget the essential things that you/your child will need to use on a daily basis. There is limited Flow and Digicel mobile service on Little Cayman and free Wi-Fi at the field station, however, we require programme participants to leave phones/tablets in their rooms during the day, except in limited free time. Local businesses accept credit and debit cards as well as cash (US$ and CI$). There is a 24-hour Cayman National Bank ATM for east of access near the general store.
We highly recommend you pack the following items:
Any necessary medications (there are first aid kits at CCMI and a clinic on Little Cayman, but supplies are limited and expensive to replace)

Toiletries

Reusable water bottle – essential!

Mask, fins, dive booties, and snorkel (fins with an open heel back to wear with dive booties are recommended but not compulsory – shore entries for snorkel outings are often more easily navigated in booties). Very limited spare snorkel equipment (mask, snorkel, fins, booties, and wetsuits) is available; please pack personal snorkel (and dive) equipment if you/your child has their own as we don't have enough gear for every participant.

Water shoes (water sandals or dive booties that can be used in and out of the water)

Clothing changes for 6 days of active learning, including at least 1 long-sleeved shirt and 1 pair of long trousers for evening activities

Closed-toe shoes or trainers for sports or long walks on rocky terrain

T-shirts or rash guard that you can wear in the water and in the sun

Wide-brim hat

Sunglasses

Sunscreen, 45+ SPF and reef safe

Swimsuits

Bug spray

Beach towel and shower towel

Backpack and/or mesh bag for snorkel gear

Light rain jacket
EXTRAS:
Pocket money (there will be opportunities to purchase items at the Seahorse Cafe, National Trust and CCMI such as souvenirs, sweet treats and CCMI merchandise

Field notebook and pencils

Disposable or digital underwater camera

A couple of your child's favourite snacks including items for s'mores
QUICK FACTS
| | |
| --- | --- |
| | CAYMAN ISLANDS |
| | June – August 2023 |
| | 1 week |
| | Marine Ecology |
| | US$2,645 |
WHAT WILL STUDENTS GAIN?
This exceptional trip will not only allow students to gain exposure to new cultures and a fully operational research institute but it will also provide them:
An understanding of the current threats facing our environment and how they can act against them

Marine animal identification

Scientific fieldwork techniques

Improved snorkeling / diving experience

Experience of living at an active research station

Certificate of completion for their CV

And much more…
ACTIVITIES
A number of possible activities are listed below:
Little Cayman has been titled a Mission Blue Hope Spot, with some of the healthiest reefs in the Caribbean. There will be a number of opportunities for your child to explore Little Cayman's pristine reefs guided by our education team who are experts on the reef, as well as minimum rescue-level divers & first-aid trained.
Tour Little Cayman Museum, Little Cayman National Trust
These tours will give your students the chance to learn more about the terrestrial ecology and history of Little Cayman. The National Trust provide a talk on the fascinating array of bird species we have at Booby Pond Nature reserve.
An essential component for any marine camp is to take part in a beach clean-up, this will help students to visualize the scale of the plastic problem.
We can arrange to catch lionfish on the cull leading up to the course, a live dissection may be demonstrated to the students, alongside a discussion about why they are a problem in the Caribbean.
Students will explore the unique landscape of Little Cayman by walking the Nature trail which cuts across the island. On this trial students will get to explore some of Little Caymans endemic terrestrial species. Again, sturdy shoes are strongly advised.
An essential camp tradition on the last night. Students gather around a beach campfire playing camp games, songs and make s'mores under the incredible starlight.
There are a planned number of lectures based on CCMI's latest research findings and conservation efforts. Students learn underwater field research methods and get to conduct mini surveys on the reef. These talks are designed to be interactive with students encouraged to ask questions and participate.
Note: Activities may vary based upon weather and schedule changes
Underwater Photography & Conservation Internship in the Cayman Islands
5th September-30th September 2023
Little Cayman Islands
5-10
Join our field guides and conservation team on one the most pristine coral reef habitats in the Caribbean for the ultimate underwater photography and conservation experience.